Want a 1S whoop outdoor, around the house and yard, which like the 2S 75X or Mobula75 in 2020 winter? Meteor75 Brushless Whoop Quadcopter would be your best choice!

Meteor75, a better approach to the 75mm micro drone which features high KV motors - 1102 18000KV motors & BT2.0 450mAH battery, giving pilots plenty of power to use both indoor and outdoor spaces as a small scale acro playground.
Noticed: The Frsky FCC version only supports the D8 protocol.
The TBS Crossfire Nano receiver with minimal T Crossfire antenna is available on the Meteor series for all CRSF users. This specific variation is only designed to be small, light, and easy to use.
This antenna is designed by Michael Anderson, produced by FPVCycle and manufactured by TBS. Know more about this antenna.
Bullet Point
Meteor75 is the first generation whoop powered by a brand-new BT2.0 connector 450mAh battery. The BT2.0 connector effectively decreases internal connector resistance for a much better discharge performance compare with the initial PH2.0 connector

The power system uses the latest 1102 18000KV motors and 40mm 3-blade props, which provides pilots a stronger experience of a powerful indoor and outdoor flight


1102-18000KV motors paired with durable ball bearings for increasing flight time/performance and low maintenance, while it adopts PCB connector to allow you repair it easier once it's disconnected

Flight controller pre-soldered the BT2.0 cable, which can provide a more stable and powerful 9A continuous current

Comes with an injection molding canopy, more durable and weighs only 1.5g 

The package comes with BT2.0 450mAh 1S lipo and BT2.0-PH2.0 adapter cable. The adapter cable is convenient for charging BT2.0 battery with your stock PH2.0 charger. Meanwhile, we have also released BT2.0 Lipo Charger Board to charge 6pcs battery at the same time
Specification
Item: 

Meteor75 Brushless Whoop Quadcopter

FC&ESC: F4 1S AIO FC
Frame:

 

Meteor75 Frame
Motors: 1102 18000KV motor
Props: 40mm 3-Blade Propellers (1.5mm Shaft)
Camera:

 

C02 Micro Camera

Battery:

 

BT2.0 450mAh 1S 30C Battery

Flight time:

 3-4min

Weight: 29.3g (without battery)
Flight Controller
We used to use the classical F4 1-2S AIO Brushless FC on the Meteor75 drone. Why not the lighter F4 1S AIO FC board? Updated with the new FC, which integrates the 25mW VTX, no need for soldering, easy to install. Meanwhile, it supports external receivers like TBS Crossfire, Frsky XM+ and Spectrum DSMX etc.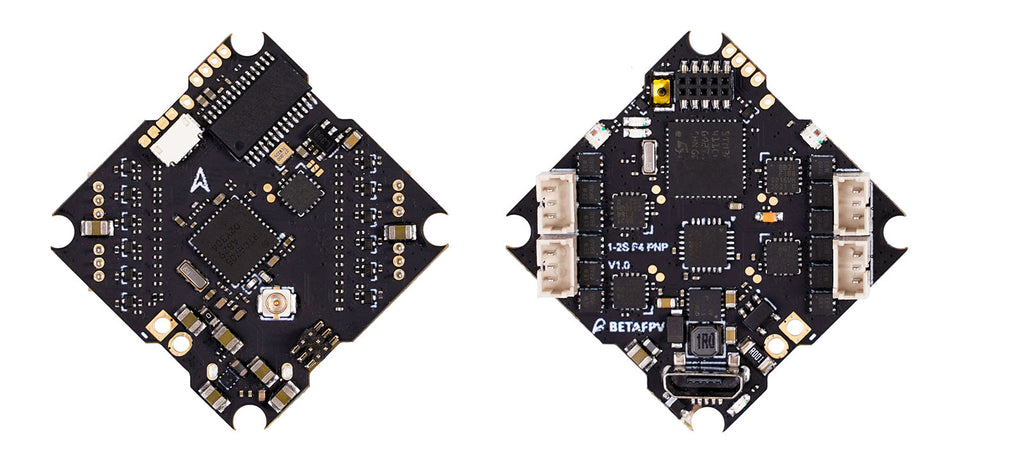 Injection Molded Canopy

Since Meteor75 whoop drone, we will use an injection molded canopy, which is only 1.5g with a camera holder. Of course, much durable than the original canopy.
Comes with a super Mini 5.8GHz FPV Transmitter + 800TVL C02 Camera+ RG178 Antenna, features 6 bands and 37 channels on the 5.8GHz band with Raceband, perfect for Meteor75.
Motors
1102 18000KV motors have a great balance between weight and power on this tiny 75mm 1S whoop drones. Only 2.9g with connectors. With the high 18000KV value, it could have a great punch power even only 1S battery.  Also, it adopts PCB connector to allow you to repair it easier once cables disconnected.
BT2.0 Connector
BETAFPV exclusive designed BT2.0 connector has broken through the bottle-neck of PH2.0 connector. There is a graph of comparison between BT2.0 connector 1S 450mAh battery and Emax 1S 450mAh battery. The discharge current is 11A in this testing. You could see that it has a longer time and improvement in voltage sag with BT2.0 connector, which brings better flight performance.
Much more choices of BT2.0 series accessories.  
We know some of pilots might have a question about how to deal with the old PH2.0 1S battery. So we provide some accessories like BT2.0 connectors for those people who want to convert the PH2.0 connector to BT2.0 connector. 
Package

1 * Meteor75 Brushless Whoop Quadcopter (1S)
2 * 450mAh 1S 30C Battery with BT2.0 connector

1 * BT2.0 Battery Charger and Voltage Tester

1 * TypeC USB cable

1 *

 

Customized Carry Case

1 * Spare 40mm 3-blade props (1.5mm Shaft)
1 * S

crewdriver