HX115 LR Toothpick Drone is an ultralight 3" 1S Toothpick Quadcopter for long-range flying. Equipped with an F4 1S 12A AIO Flight controller that integrates ExpressLRS 2.4G receiver, the drone is available for long-range with a reliable radio link.  Even with a 18650 battery, the cruising speed is higher than you probably expect. Since it is equipped with a powerful 350mW M02 5.8G VTX and built-in ExpressLRS receiver, the HX115 LR has several kilometers of video and radio signal range.

s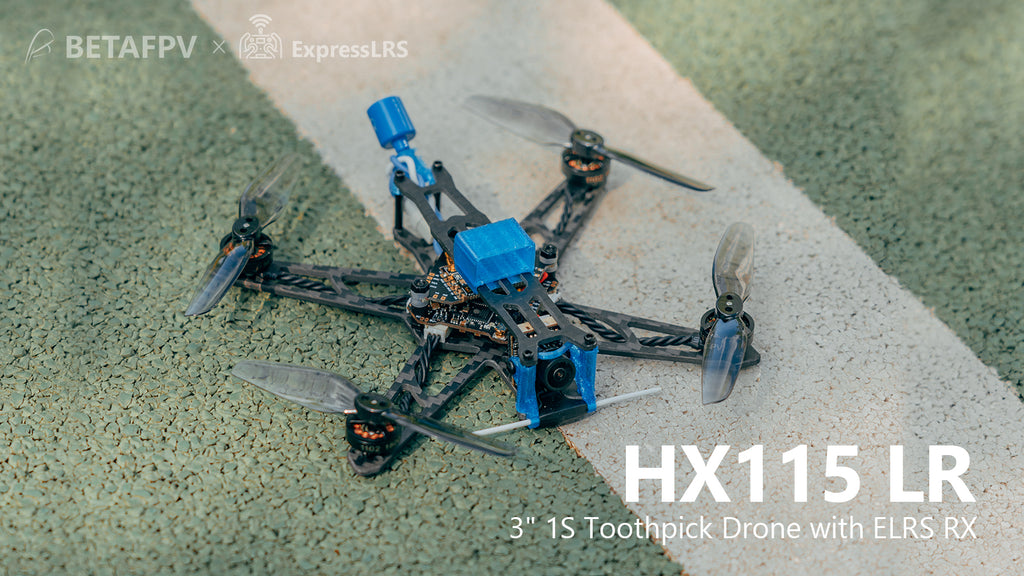 Bullet Point
Equipped with F4 1S 12A AIO Flight controller, which is specially designed for 1S 3-inch toothpick drone. Ultralight 44g without battery and 3-5 minutes flight time with BT2.0 450mAh 1S battery.
The popular ExpressLRS 2.4G receiver and 350mW 5.8G VTX could provide a long-range flying experience. Besides, the mounting of the 18650 battery is considered at the beginning. Pilots could assemble their own 18650 battery bay conveniently and enjoy longer flying.
Equipped with a BETAFPV BT2.0 connector, it can support a 9A continuous current and 15A burst while the PH2.0 connector uses a 4.5A continuous current. It provides stable 

power and outstanding performance for HX115 LR Toothpick Drone.

1102 18000KV motor and durable HQ 3020 2-blade props formed a highly efficient power system, which 

lays a foundation for 

excellent flight performance.
Specification
Item:

 

HX115 LR Toothpick Drone
Wheelbase:126mm
Weight:44g
Motor:1102-18000KV
Charge connector:BT2.0 connector
Propeller: HQ 3020 2-Blade Propellers 1.5mm Shaft
Flight controller:F4 1S 12A AIO FC with ELRS 2.4G Receiver  
Battery: BT2.0 450mAh 1S Battery
VTX: 

 

M02 25-350mW 5.8G VTX
Camera: Caddx ANT camera
Camera Tilt Degree:0-60°
Receiver: Built-in ExpressLRS 2.4G Receiver
Flight time:3-5min with BT2.0 450mAh 1S Battery  / 15min+ with Sony VCT6 3000mAh battery
12A 1S FC with ExpressLRS RX
Most of the 1S flight controllers on the market come with 5A ESC by now, F4 1S 12A AIO FC especially integrates 1S 12A ESC for 3-inch toothpick drones. with this FC, pilots can fly HX115 LR all smooth and powerful flying actions without any worries.
This board integrates the receiver with the most popular radio link ExpressLRS in 2021. ExpressLRS aims to achieve the best possible link performance in both speeds, latency, and range.  The serial protocol between the receiver and the F411 FC is the Crossfire serial protocol. Know more about the ExpressLRS project on Github or join the discussion in the Facebook Group.
18650 Battery Bay
At the beginning of designing the HX115 LR frame, the standard 18650 battery bay is considered. The TPU 3D printed mounting parts are included and pilots could assemble their battery bay easily. No more screws are needed.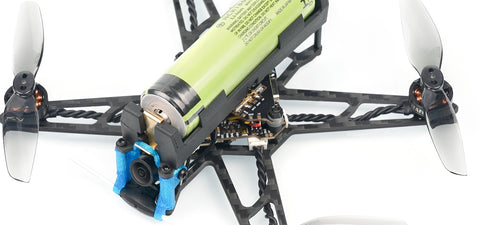 With the high C rate Sony VCT6 3000mAh battery, the flying time could be up to horrible 15 minutes. Please note: 18650 Battery Bay is not included in the package.





Motor & Props
HX115 LR Toothpick Drone equipped with lightweight 1102 18000KV motor, it provides powerful thrust to HX115 LR and makes the drone fly super fast and smooth!  Combined with durable HQ 3020 2-blade props, this high-efficient power system lays a foundation for excellent flight performance.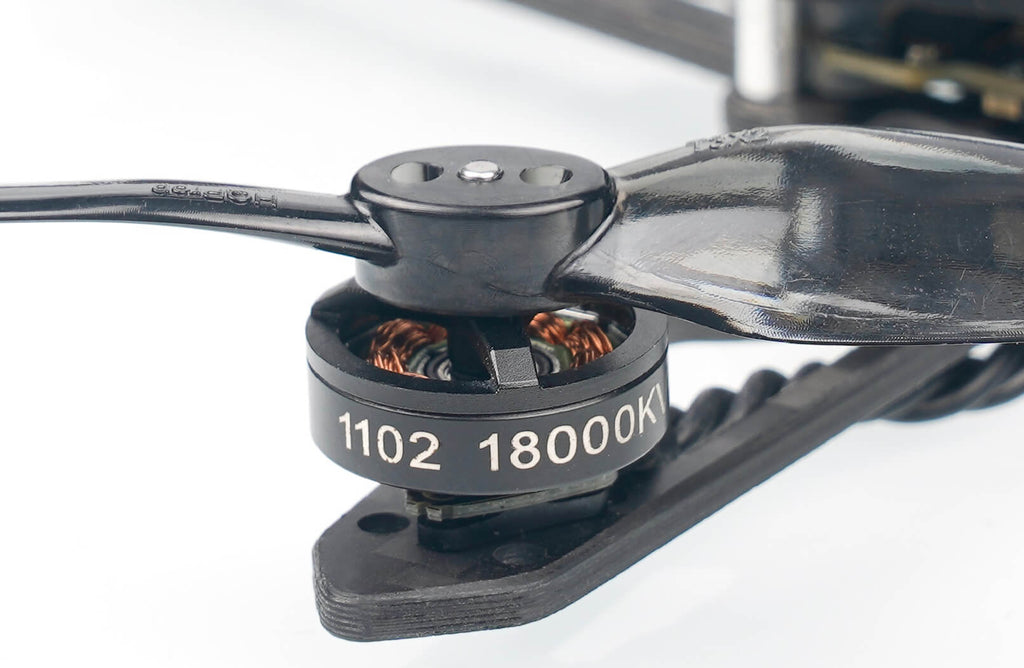 FAQ
PACKAGE
1 * HX115 LR Toothpick Drone
1 * BT2.0 450mAh 1S Battery ( 18650 battery and battery bay are

 

NOT

 

included)
1 * set of 

HQ 3020 2-Blade Props