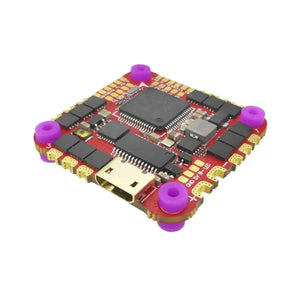 About this product
This HAKRC AIO Board features a brushless F722 flgiht controller and a 40A 2-6S BLHeli_S ESC. This version carries an external USB. This is an ultra-light 7g brushless AIO flight controller!! This FC has a strong performance and can handle 40A continuous current and up to 6S. 
VIDEO: HAKRC F722 AIO Whoop Flight Controller
Features
PCB adopts high-end 8-layer 2oZ thick copper skin, which has stronger over-current capability and good heat dissipation
MOS adopts imported 40V high current resistance MOS, long life and strong load capacity
High-quality Japanese Murata capacitors with strong filtering performance
Industrial grade LDO for high temperature resistance.
Specifications
Mounting Pattern: 25.5mm-26.5mm
Packing size: 63x32mm
Product Net weight: 7g
Package Weight: 25g
Size: 32x32mm
F722 FLIGHT CONTROLLER
LED: Support WS2812 and other programmable
Flight control firmware version: HAKRC F722D
Receiver: CRSF / Frsky/ Futaba/ Flysky/
TBS Crossfire/ DSMX: DSM2 receiver
Sensor: Built-in current sensor
CPU: STM32F722RET6
Barometer: integrated
IMU: MPU6000
OSD: AT7456E
BEC: 5V/3A
Uart: 5
40A ESC
Protocol support: PWM, Oneshot125, Oneshot42,
Multishot, Dshot150, Dshot300, Dshot600
Firmware version: BLHELI _S (G- H-30)
Firmware support: BLHELI_ S
Current meter proportional value: 450
Input voltage: 2S-6S Lipo
Continuous current: 40A
Peak current: 50A
Includes
1x HAKRC AIO Board - Brushless F722 FC + 40A 2-6S BLHeli_S ESC
1x 180mm External Type-C USB Board
1x SH1.0/7P Single-Head Cable
4x Shock-Absorbing Ball
1x 270uf/35V Capacitor
1x XT30 Power Cord
More Information
| | |
| --- | --- |
| SKU | 17728 |
| UPC (GTIN) | 764613343274 |
| Manufacturer | HAKRC |
| Mounting Pattern | 25.5x25.5mm (Whoop) |
| Item Returns | This item can be returned |