F722 2-6S AIO 35A FC is a very reliable FC that is made to meet your advanced FPV needs. Comes with an F722 chip and BLHeli_S ESC firmware, this board provides a better performance capability and higher calculation speed, which brings pilots a more stable and smoother flight. What's more, F722 AIO 35A FC has specially added a 6-pin connector for DJI Digital VTX, just plug & play, less solder work needed, super easy to install. It also can handle up to 6S of input voltage and push your FPV racer to the max. We highly recommend it for 4-5'' Toothpick quad, such as Xknight

Bullet Point
Compare with F4 AIO 35A FC, F722 FC's firmware is upgraded from F411 to F722, providing a better performance capability and higher calculation speed, which brings pilots a more stable and smoother flight.

F722 AIO 35A FC has specially added a 6-pin connector for DJI Digital VTX, just plug & play, less solder work needed, perfect for the pilots who enjoy the DJI Digital VTX system.

6 full UARTs are available on this board. With plenty of UARTS, Pilots could have

 

more options for external parts like

 VTX, GPS, Receiver, and other components.

It can handle 35A continuous current(40A burst), totally supports the 2-6S lipo battery, brings the drone a stronger flight performance.

With the 6S battery and this F722 

35A AIO toothpick FC, the drone will break through the limit of the power of the toothpick drone, exploring more possibilities in 4-5'' drones.


Specification of FC
Item: F722 35A AIO FC(BLHeli_S)
Weight: 7.06g
CPU:

 

STM32F722RET6

Six-Axis: MPU6000 (SPI connection)
Mounting hole size: 26mm * 26mm
Firmware version:

 

betaflight_4.2.x_BETAFPVF722

OSD: Built-in BetaFlight OSD (OSD chip:

 

AT7456E

)
Support programmable LED like WS2812 etc
Built-in current sensor
Specification of ESC
Signal support: PWM, Oneshot125, Oneshot42, Multishot, Dshot150, Dshot300, Dshot600
Receiver: Support Frsky XM/XM+ Receiver/ Futaba Receiver/Flysky Receiver/DSMX Receiver/TBS Crossfire Receiver (requires external connection)
Input voltage: 2S-6S Lipo
Continuous current: 35A
Peak current: 40A
ESC firmware: BLHeli_S
Indicators: 2 indicators: receiver indicator (green)/Flight control power indicator (red)
Capacitance: CS|5*10*13mm|470μF|35V
Connecter: 80mm 14AWG silicone cable with XT60
Recommended motors: 14XX series, 15XX series, 16XX series, 18XX series, 2

0XX series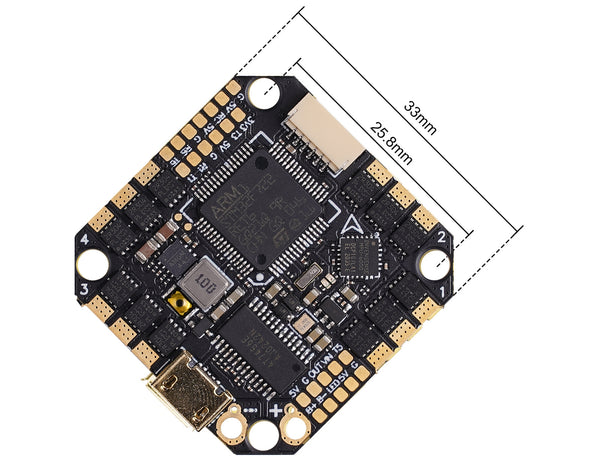 Diagram for F722 35A AIO FC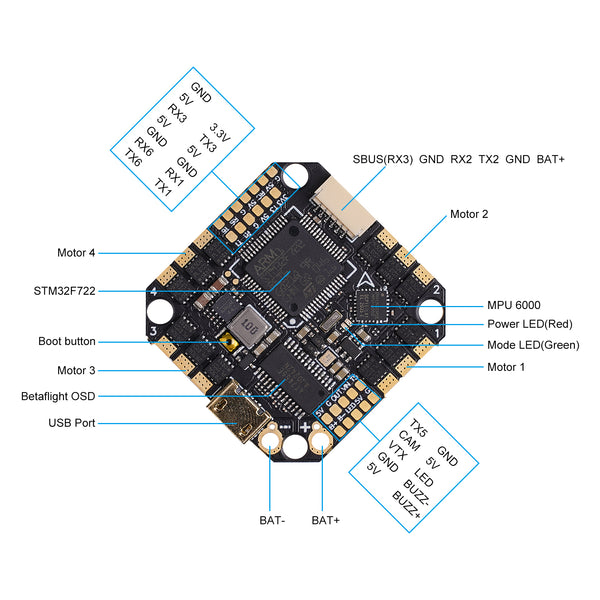 Status LED
There are 2 LEDs on the bottom of the board to indicate the status, including the Receiver LED ( Green) and FC Power LED ( Red ).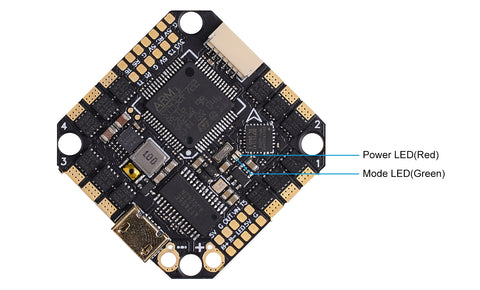 | | | |
| --- | --- | --- |
| LED |  Status |  Description |
| Mode LED (Green) |  Solid | Horizon Mode/ Angle Mode |
| Mode LED (Green) |  Extinguished | Acro Mode |
| Power LED (Red) |  Solid |  Power on |
How to Connect the External Rx to the F722 FC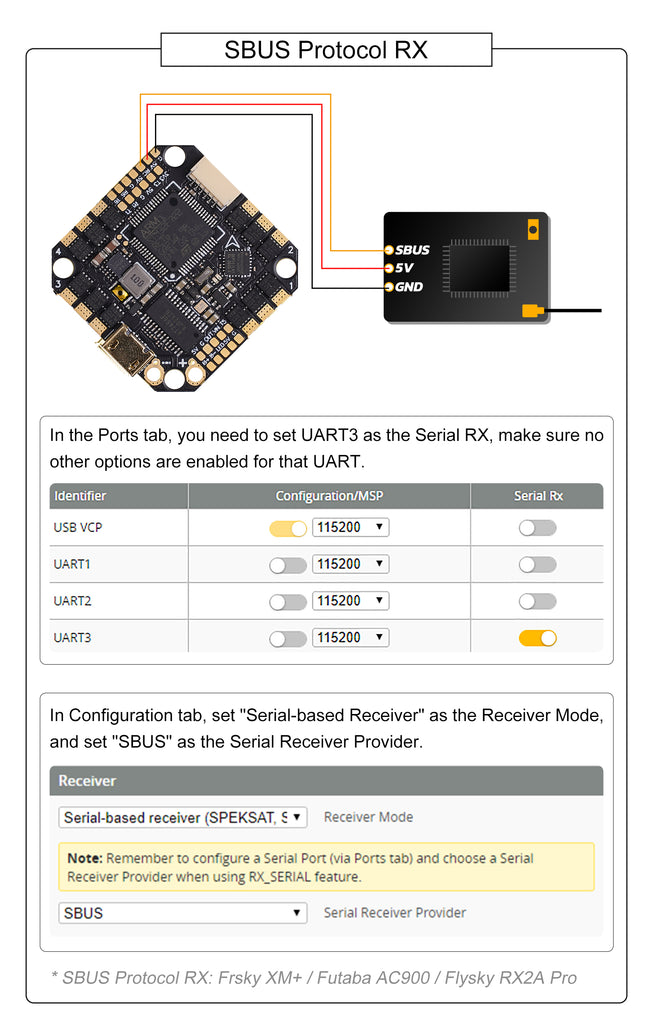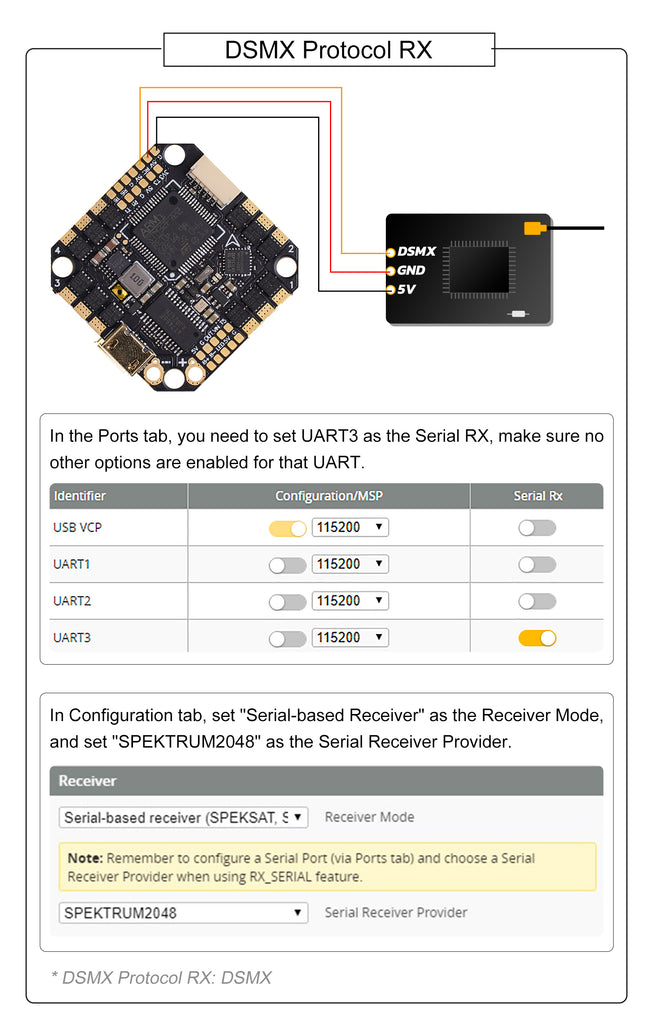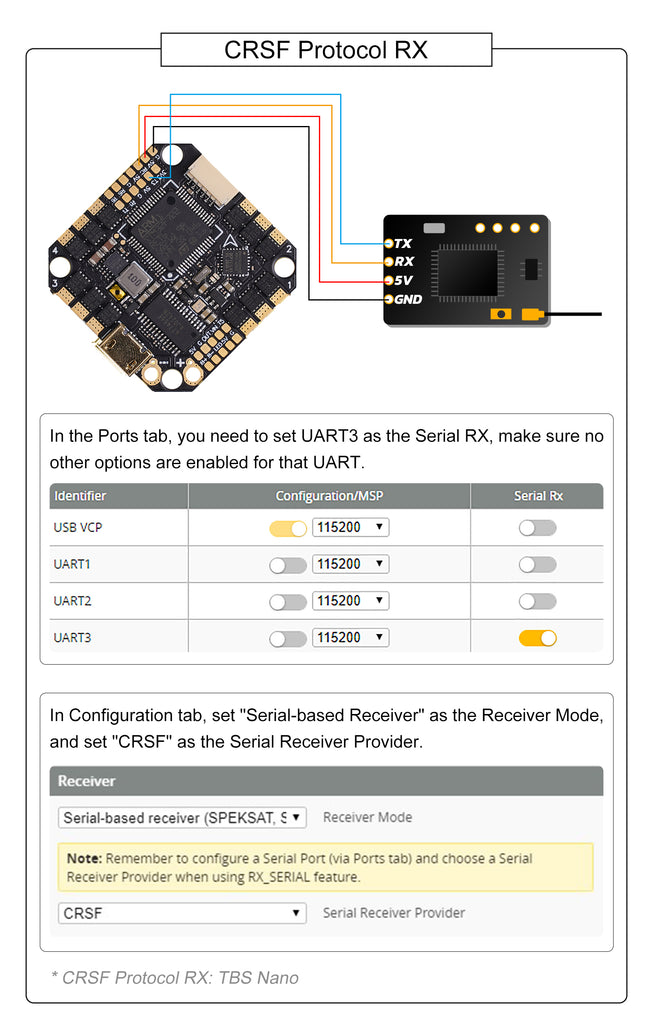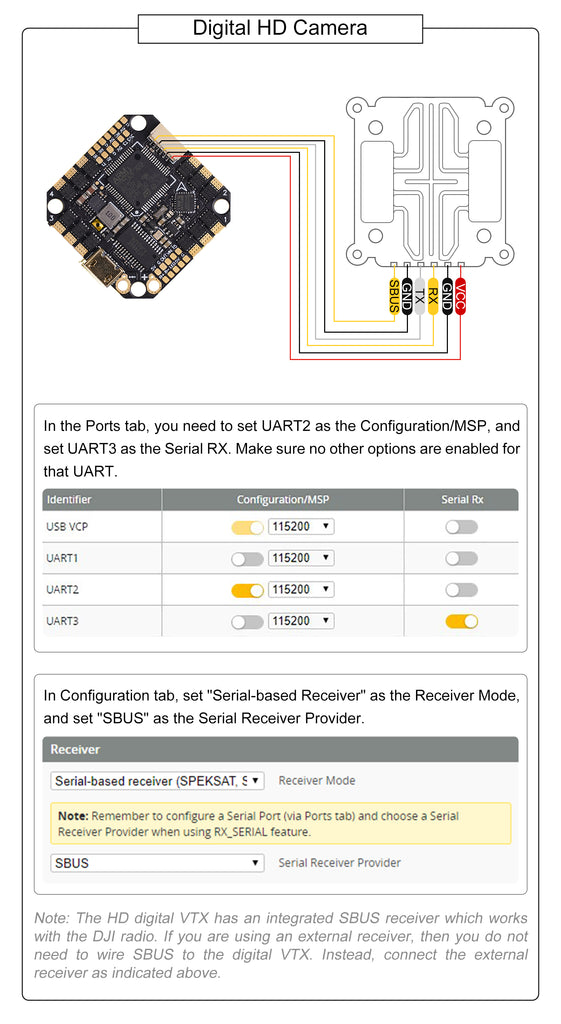 Recommended Parts
Package
1 * Toothpick F722 35A AIO 2-6S brushless flight controller
1 * Cable Pigtail (XT60U)
1 * C

apacitance

1 * 6-Pin Connector for DJI Digital VTX

4 * M2x10mm Screws
8 * M2 Nuts