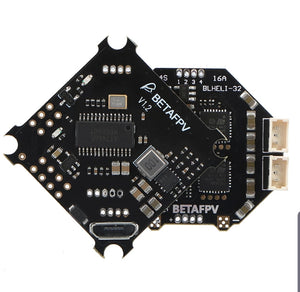 BLHeli_32 is the 3rd generation ESC firmware after BLHeli and BLHeli_S, which is written for ESC's that utilize 32-bit MCU. With the increase in processing power, faster input signals with lower latency and higher update rate would be possible in BLHeli_32, such as Dshot1200!
Know more about BLHeli_32 ESC from Oscarliang's blog.
Check out Joshua Bardwell's video to know every detail of BLHeli_32

SPECIFICATIONS OF FC
The F4 FC board is the same one on Beta75X drone. Click here for more detail information about the FC board.
CPU: STM32F405 (Overclock to 240MHz)
Six-Axis: MPU6000
Size: 26mm x 26mm, whoop mounting pattern
Firmware version: Betaflight OMNIBUSF4SD (OBSD)
OSD: Built-in BetaFlight OSD (STM32 controls OSD chip over SPI in DMA mode)
TX02、RX02 ports is available, so that it could support TBS micro receiver
RSSI ports is available
Buzzer solder pads

Support programable LED like WS2812 etc

Weight: 2.7g
SPECIFICATIONS OF ESC
This ESC used to design for 4S battery. But under more extreme testing, it could only stand 2-3S voltage input. DO NOT POWER WITH 4S BATTERY.
Support BLHELI_32
Support PPM, Oneshot125, Oneshot42, Multishot, Dshot150, Dshot300, Dshot600, Dshot1200
Input voltage: 2-3S lipo
Cotinue current: 16A
Peak current: 25A 
Firmware target: BETAFPV-16A-32bit
MCU:STM32F051
Motor Connectors: 1.25mm header pins connector

HOW TO ASSEMBLE FC & ESC
Note: Please assemble the FC and the ESC as the picture shown below, otherwise the fc will be BURNT to damage.
RECOMMENDED PARTS LIST
RECOMMENDED RECEIVER CONNECTION
All the ports are available on this board. So that you could connect any receiver you want on the board. For example.
Frsky XM/XM+ Receiver
TBS receiver
DSMX receiver
For the details about how to connect the receiver and configure in Betaflight, please check the F4 2S Brushless FC & ESC Manual.
PACKAGE