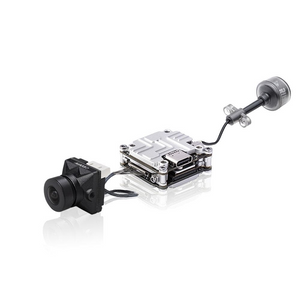 Speicifications:
Brand Name: Caddx
Item name: Nebula micro Vista Kit
Weight: Vista set (including camera): 25g; Antenna: 2.5g
Size: Vista Kit: 30x29x13mm; Camera: 19x19x20mm; Coaxial cable: 120mm
Working frequency: 5.725-5.850GHz
Transmit Power (EIRP): FCC / SRRC / MIC: <30dBm; CE: <14dBm
Min.latency (end-to-end): Low Latency Mode (720p 120fps): 21-28ms; High quality mode (720p 60fps): 30-40ms
Max.transmission distance: FCC / SRRC: 4 km; CE: 0.7 km
Interface I / 0: USB-C, IPEX, 3-in-1port
Supported flight control systems: F3.F4.F7
Operating temperature range: 32 ° to 104 ° F (0 ° to 40 ° C)
Input power: 7.4-26.4V
0utput power: 25mW / 200mW / 500mW / 700mW
Hardware included: Vista / Nebula  / coaxial cable / antenna
Compatible Goggles: Works with DJI Goggles.
Camera Specifications:
The black

Sensor: 1/3 "CMOS
Lens: 2.1mm, f / 2.1
Shutter: Rolling shutter
FOV: 150 '(D); 122 "(H); 93 ° (V)
TV system: PAL / NTSC Switchable
Image: 16: 9/4: 3 switchable
property:
- Use only one antenna, the maximum range is 4 kilometers.
- Designed for small drones and weighs as low as 27g (antenna included).
- Can be used with DJI FPV goggles.
- With DJI Goggles, it can provide 720p / 120fps high definition digital images and a maximum transmission range of 4km.
- Allow a maximum of eight drones to fly simultaneously. Each operator has a special channel. Which reduces cross interference and
Provide the best racing experience.
- Users can connect the Vista Kit to the DJI FPV Wireless Remote Controller without having to purchase an additional receiver. Which greatly reduces the flight preparation time
- Stable and clear HD video. User can select 25mW / 200mW / 500mW / 700mW from DJI Goggles Settings.
- Compatible with two installation sizes 20 * 20mm / 25.5 * 25.5mm.
Package included:
1x Caddx Nebula micro Vista Kit