To enhance the flying experience, DIY enthusiasts have diligently worked on reducing the weight of the 1S whoop drones for an ultra-light structure. We upgraded the Meteor65 frame to the Meteor65 Air Brushless Whoop Frame, which achieves a remarkable minimum weight of just 2.67 grams. It maintains exceptional strength and durability while introducing a new motor fixed slot, and optimizing a low profile design. It indisputably emerges as the topgallant choice for pilots seeking an unparalleled ultra-light Sub18g 65mm 1S Whoop drone. 
Bullet Point
Weighing a mere 2.67g, this Meteor65 Air Brushless Whoop Frame exemplifies exceptional ultra-light structure while maintaining remarkable durability and crash resistance.

A groundbreaking addition to the 65mm frame, the inclusion of motor fixed slots enhances the convenience and stability of the motor installation.
The low profile design effectively concentrates the whoop drone's gravity, optimizing its flight performance.
The deliberate increase in whoop duct diameter effectively mitigates the risk of propeller strikes, ensuring seamless compatibility with

 

0702 motors and

 

0802 motors, and

 

31mm propellers.
Specification
Item: Meteor65 Air Brushless Whoop Frame
Material: PP
Weight: 2.67g
Wheelbase: 65mm
Motor Mounting: 3-M1.4-6.6mm
Flight Control Installation Hole: 26×26mm
Battery Slot Size: 11.6×6.0mm

Color: Black, White, Transparent White, Transparent Blue, Transparent Purple, Transparent Green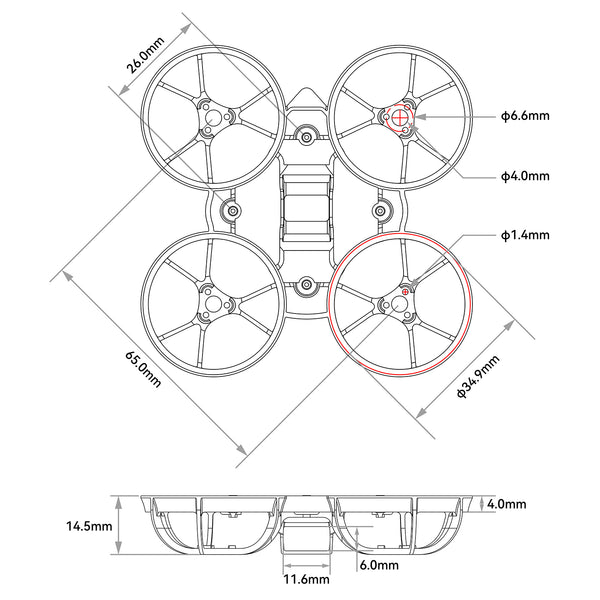 Comparison
Based on the Meteor65 frame, we have optimized and upgraded in many aspects, the details are as follows.
| | | |
| --- | --- | --- |
| | Meteor65 Air Brushless Whoop Frame | Meteor65 Micro Brushless Whoop Frame |
| Weight | 2.67g | 3.14g |
| Duct Diameter | 34.9mm | 34mm |
| Duct Height | 14.5mm | 16mm |
| Motor Fixed Slot | Supported | Does Not Supported |
| Propellers | 31mm propellers | 31mm propellers |
The duct diameter is enlarged from 32mm to 34.9mm, which improves compatibility and avoids propeller strikes.
The weight is reduced from 3.14g to 2.67g, making the flight more flexible, exemplifying the exceptional ultra-light

 

structure 

of the 1S whoop drone. Both frames feature the same materials and durability.
With the low profile of frame, the drone's gravity center is more concentrated and improved the sense of compactness.
Motor Fixed Slot
In a groundbreaking development, the Meteor65 Air Brushless Whoop Frame has been added firstly with motor fixed slots, facilitating a more expedient and steadfast motor installation process. While misalignment has no measurable effect on motor efficiency, correct shaft alignment ensures the smooth, efficient transmission of power from the motor to the flight controller, reduces mechanical stress, and minimizes power wastage. For advanced pilots who have strict requirements for assembling the ultra-light 1S whoop drone, this new design undoubtedly adds the finishing touch.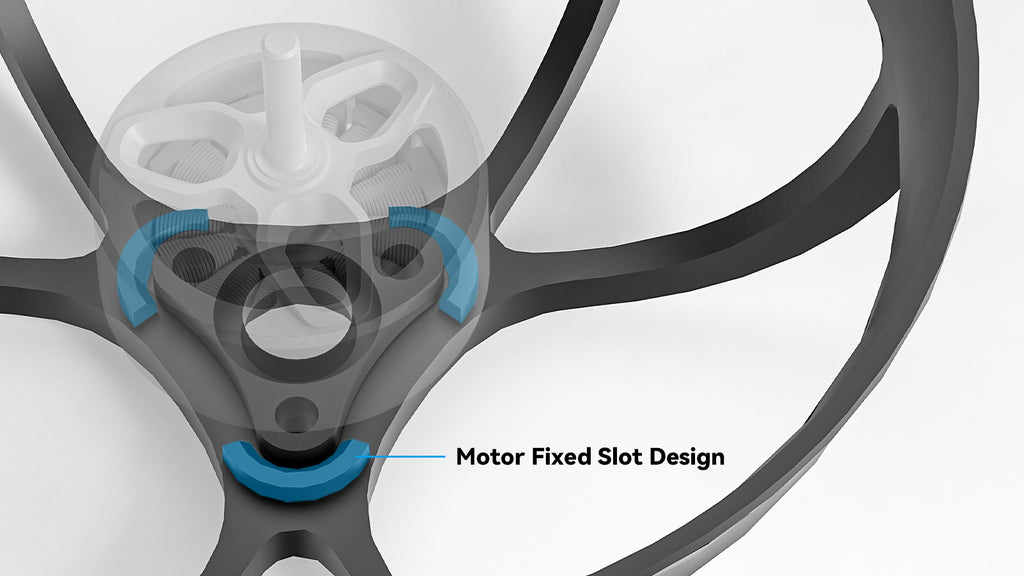 Endless Personalization
We enhance frame structure design and also provide diverse color options for drone frames, enabling greater freedom for choice. This allows for aligning or color clashing the frame color with your drone's theme. And equipped with our various colors of ultra-light Micro Air Canopy adds more possibility of capturing the optimal image. Your drone will capture people's attention and showcase your unique personality and creativity. 
Micro Air Canopy
We also have devised an exceedingly light Micro Air Canopy, weighing a mere 0.74g, that not only facilitates camera angle adjustment from 25° to 50° but also has antenna mounts, incorporated at the tail. If your goal is to optimize canopy functionality while minimizing weight to obtain a Sub18g 65mm Whoop, this option stands as the definitive choice.


Recommended Parts
Package
Item: 

Meteor65 Air Brushless Whoop Frame

1 * Meteor65 Air Brushless Whoop Frame