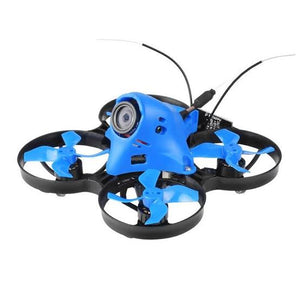 FC
CPU: STM32F411CEU6 (100MHZ )
Six-Axis: MPU6000 (SPI connection)
Size: 26mm x 26mm, whoop mounting pattern
Firmware version: Betaflight MATEKF411 (MK41)
OSD: Built-in BetaFlight OSD (STM32 controls OSD chip over SPI in DMA mode)
Receiver: Support Frsky XM/XM+ Receiver/ Futaba Receiver/ Flysky Receiver/ TBS Crossfire Receiver. Add Frsky R9M Receiver and DSMX receiver since V1.2
Support programmable LED like WS2812
Built-in current sensor
Weight: 5.6g
ESC
Support BLheli/BLHELI_S suite Pass-through ready
Support PWM, Oneshot125, Oneshot42, Multishot, Dshot150, Dshot300, Dshot600
Input voltage: 2S-4S Lipo
Continue current: 12A
Peak current: 13A
Firmware: BLHELI_S
Processor: SILABS EFM8BB21F16G
Motor Connectors: 1.25mm header pins connector
Factory firmware: G-H-30-16.7
Caddx Turtle V2 Camera
Inspired by the innovation of the community and its pilots who were throwing HD cams on their Beta75X, we re-engineered this new version to meet their needs. So yea, put away your cable ties, twist ties, rubber bands, and hot glue guns. Just throw on a battery, go rip and capture it all on HD.
A01 25-200mW 5.8G VTX
Our newest A01 VTX board is lighter and perfectly suited for the canopy. The VTX's output power is switchable, between 25mW and 200mW. Smart audio is available for VTX remote control by default.
Output power: 25mW and 200mW (Adjustable)
Smart Audio function is included for radio control
Frequency: 5.8GHz 6 bands 48 channels, with Raceband: 5362~5945MHz
Caddx Turtle V2 camera
TV System: NTSC
Aspect Ratio: 16:9(non-changeable)
Image sensor: 1 / 2.7" CMOS sensor