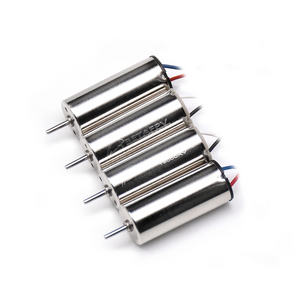 These 8.5x20 brushed motors will come back in July. 
These 8.5x20 brushed motors are just for the Beta85 drones. The Beta85 must be the biggest whoop stype brushed drone in the world nowadays.
Recommend Parts
Bullet Point
Just for 85mm Beta85 frame

.

Basic Edition 16000KV / 60,000 RPM@3.7V
Motor Diameter: 8.5mm, Motor Length: 20mm, With 1.25mm JST Plug
Weight: about 5.2g
Size comparison of all brushed whoop motors from BETAFPV. 
Specification
motor diameter: 8.5mm 
motor length: 20mm 
shaft diameter: 1.0mm 
cable length: 56mm 
weight: about 5.2g 
no load speed: 60,000 rpm at 3.7V
motor wire: clockwise motor(with red blue), anti-clockwise motor(with black white) 
connector: JST 1.25mm plug 
Package
2 * 8.5x20mm 16000KV motor (CW) 
2 * 8.5

x20mm 16000KV motor (CCW)